In each state, the National Girls Collaborative Project model creates a network of professionals, researchers, and practitioners, who share and disseminate high-quality, research-based resources. Through NGCP's collaboratives in states like Tennessee, Pennsylvania, and Louisiana, young learners can harness the wide world of STEM (science, technology, engineering, mathematics) through fun and accessible activities and experiences.
Dale McCreedy is the lead for the Tennessee Girls Collaborative Project and shares how the collaborative has fostered community collaboration. "Participation in NGCP has been instrumental in helping the Tennessee Girls Collaborative build connections with community partners with whom we have not previously partnered, including those with state-wide access. This has furthered our mission of serving girls with the goal of increasing broader awareness of our wider community resources."
Girls and young women do not differ in their abilities in mathematics or science compared to boys and young men, but they do differ in their interest, confidence, and sense of belonging in STEM. For girls of color and girls from a lower socioeconomic status, the impacts of the intersectional inequalities of gender, race, ethnicity, and class can hinder identification with and long-term participation in STEM. NGCP's resources and professional development enable collaboratives to use a research-based approach to address the barriers girls and young women face and engage and support more girls in STEM.
"NGCP has provided access to resources and unique grant funding. For example, funding connected to the IF/THEN® Collection allowed for girl-focused programming in Tennessee as part of the Tennessee STEAM Festival. Through a shared partnership with members of the Tennessee Afterschool Network, we distributed OSMO tablets and Mercedes/Mattel Matchbox cars commemorating Ewy Rosqvist's historic Argentinian Grand Prix performance, to under-resourced children and families, to show girls that there are no limits!"
Lisa Kovalchick is the lead of the Pennsylvania STEM Girls Collaborative Project and highlights the networking benefits. "NGCP has provided us with significant benefits relating to resources/support/networking opportunities. We have participated in network projects like Leap into Science, CryptoClub, and Science Action Club and then disseminated that information to very deserving STEM programs throughout the state."  Lisa affirms that networking with other STEM professionals helped the Pennsylvania STEM Girls Collaborative Project to obtain grants and aids in the collaborative's work centered around informing high school students about careers and professional development in computing and math.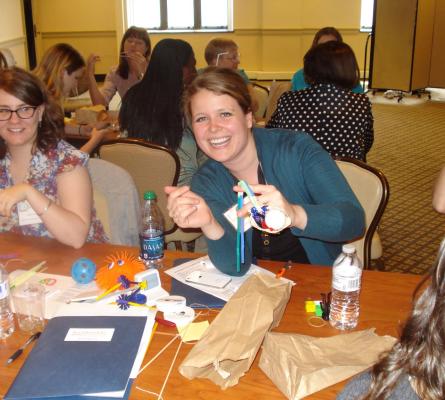 "We have reached an overwhelming number of girls throughout the state through the application of the curriculum acquired through network projects. It allows us to be more recognizable.  We are not just another local (or state) STEM initiative. People pay more attention to us, our message, and our training opportunities, when they know that we are a collaborative of the NGCP."
Cathi Cox-Boniol, a director at the Science and Technology Education Center at Louisiana Tech University and lead for the Louisiana Girls Collaborative, came to know about NGCP through the NGCP newsletter. Gathering resources to include in a weekly e-blast, Cathi learned of the Computer Science for All conference being held in a city near her town. Participating in the CS for All conference led to Cathi and her team making a commitment to reach girls in rural Louisiana. The Computer Science for You program was born and blossomed and Cathi attributes the program's success to NGCP sharing information about the conference through the newsletter. Cathi recognizes NGCP as a sharer of resources.
"We have been able to further empower our young girls, specifically young girls who display excellent leadership skills. Melissa Lee had been a volunteer with us when she was in middle school... she really took a lot of ownership with this program. So, when we had an opportunity this year and saw the call for nominations for the Youth Advisory Board, we immediately thought why not Melissa? Because of our relationship with NGCP, Melissa applied, interviewed, and was made a member of the Youth Advisory board with NGCP. Now, she is a Jr Co-Chair of the Youth Advisory Board. To observe someone from our small community interacting with others across the country and exercising her voice, it has been inspiring for us and makes us think how we will encourage other young girls."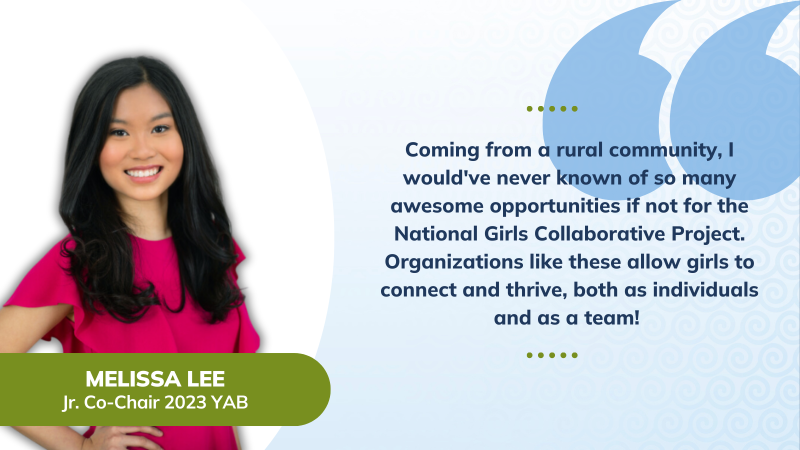 We are appreciative of our collaboratives and the work being done across the country to ensure that young girls and young women see themselves as future change makers in STEM. We celebrate our newest collaborative, The New England Girls Collaborative Project which serves communities across Maine, Massachusetts, New Hampshire, Rhode Island, and Vermont. We look forward to the impact this new collaborative will make on fostering STEM opportunities for more girls and young women across New England.
Collaboratives
The Tennessee Girls Collaborative encourages new ways of thinking, creates innovative solutions and builds a strong and diverse workforce in Tennes
More Information
The PA STEM Girls Collaborative Project brings together organizations throughout Pennsylvania that are committed to informing and motivating girls
More Information
The Louisiana Girls Collaborative Project brings together organizations throughout the state of Louisiana that are committed to informing and motiv
More Information