NGCP maximizes shared resources and equitable access. We host webinars and events, participate in conferences, convey exemplary practices and current research, and showcase program models and tools for working with girls in STEM. NGCP also promotes, and sometimes co-hosts, events with our partners and Local Collaboratives.
Upcoming events, news, and professional development opportunities are listed below, as well as published in our monthly e-newsletter.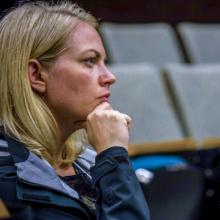 "Before working with NGCP, it was time consuming and exhausting to navigate the glut of information out there regarding STEM for girls. Because STEM is only a portion of what I do in my job, it really wasn't time well spent. I place great value and get a huge return on the time invested in attending NGCP events."
Event
Girls STEAM Ahead with NASA Resources in Action Webinar
The Girls STEAM Ahead with NASA program, part of NASA's Universe of Learning, provides resources and experiences that enable youth, families, and lifelong learners to explore fundamental questions in astrophysics, experience how science is done, and discover the universe for themselves.
Event
Youth Advisory Board Town Hall: The Impact of Artificial Intelligence on Society
Join NGCP's Youth Advisory Board for a discussion about AI and its impact on society.
Latest Resources
Have you seen these strategies, tools, and activities to advance STEM education for girls?