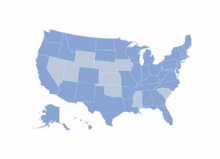 Collaboratives serve and connect local girl-serving STEM programs. NGCP has 33 Collaboratives that support 41 states. These hubs for local programs coordinate resources and reach deep into the community.
Local Collaboratives have an extensive network of organizations and individuals working to increase gender equity in STEM, sharing and learning from each other. They vary in focus areas and populations served and include higher education institutions, community-based organizations, and private nonprofits. Collaboratives hold in-person events, distribute regional newsletters, award mini-grants, and increase awareness of local resources.
In each state, the NGCP model creates a network of professionals, researchers, and practitioners, who facilitate collaboration and deliver high-quality, research-based professional development. NGCP helps Collaboratives strengthen the capacity of projects by sharing research-based exemplary practices, program models, and products. We also train and mentor participants to collaborate and create partnerships at the state and local level.
Find Your Collaborative         Start a New Collaborative