Published
Contributed by Jen Stancil
We know there are disparities for women in STEM. A new initiative takes a new approach to leveling the playing field for every girl.
In mid-October, a group of women and girls gathered in Dallas for the IF/THEN Summit. There was a tornado outside, and inside, another storm was brewing — a storm to change the face of science forever. This charge, led by Lyda Hill Philanthropies and AAAS, with a key assist from the Geena Davis Institute on Gender in Media and the National Girls Collaborative Project, has everything to do with putting women at the front of media, research, and the teen girls who they believe can change the world by embracing STEM careers.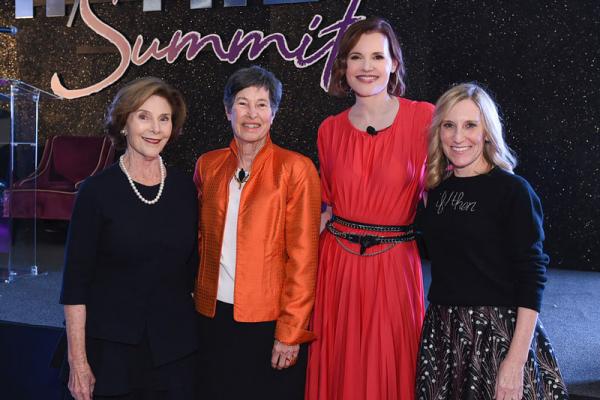 Earlier this year, Lyda Hill provided a $25 million dollar gift to spark a STEM revolution. Soon 125 IF/THEN Ambassadors were chosen from around the nation, representing some of the most diverse STEM professionals on the planet. Women of immensely representative backgrounds made their way to meet each other, welcomed as the next superstars of science. In the same week with the first all-female spacewalk in "herstory", the energy was electric, positive, and grateful.
"We know if you show a little girl what women in STEM are accomplishing today THEN she too can be a force for change. If she can see it, she can be it," says Nicole Small, CEO of Lyda Hill Philanthropies. Over four days, the scientists, activities, entrepreneurs, and academics would meet each other, go through a social media boot camp, be inspired by legendary scientists like Sylvia Earle and their peers, and develop an electronic press kit that will help them share their stories in the coming year. They are even getting their own 3-D printed statues. This media juggernaut is complemented by other key initiatives meant to raise the visibility of women in science. Namely, a series of commercials are now airing across TV from the Ad Council showing little girls finding out what scientists do day to day; a reality show where a girl chooses a mentor for life in Fast-Forward Girls; and a new Saturday morning TV show called Mission Unstoppable, executive produced IF/THEN, the Geena Davis Institute, and Miranda Cosgrove and featuring some of the women mentors in the show. During the conference, the women were empowered with an opportunity to apply for grants to realize even more outreach in their communities.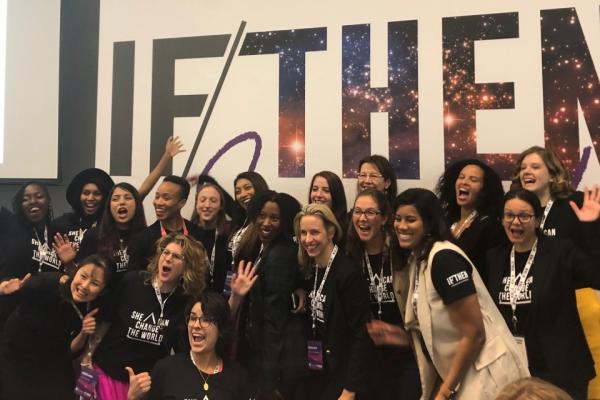 All the work is heavily based in research. This is where Dana Scully and Sylvia Earle come in. The initiative seems steeped in three types of research - equity, media, and academic. First, there is a ton of equity research in the mix here about when girls are most vulnerable to eschewing STEM careers. That research includes what girls need (mentors, tools) to discover careers that don't yet exist. That's why Karen Peterson of NGCP and Suzanne Harper of Girls Scouts presented their take on girls' vulnerability to dropping out of science in 2nd/3rd grades, 6th grade, and 9th grade especially. Suzanne presented a model based on research and practice by the Girl Scouts about how girls' leadership manifests itself in community action, a strong sense of self and a love of seeking out challenges. But how do we get to those outcomes? Karen presented the enormous platforms of The Connectory (a searchable, national directory of STEM opportunities for youth) as well as Fab Fems (a national directory of female STEM role models) and introduced the newly updated SciGirls Strategies, whose techniques are used to train thousands of educators. The ambassadors press kits will be available online in the IF/THEN Collection with more than 2,000 assets (pictures, videos, bios, 3D scans) that will be free and accessible to nonprofit and educational institutions.
Research about girls was combined with a second type focused on the media's representation of girls and women. By the numbers, we have at least 50% of the workforce as women yet 24% of women make up the STEM workforce. In the media, 37% of the characters portrayed in STEM fields are women yet a whopping 63% of them say their single inspiration for being a scientist today was ... Dana Scully. The initiative will seek to blend the two... making these new researchers the real-life role models that you can see on TV. Sylvia Earle and Jane Goodall didn't have those platforms when they started out. They are heroes and icons, and the Geena Davis Institute on Gender in Media suggests that we need far more of them represented in TV and movies as well. Then, maybe we can have rooms full of influential STEM women who change the world at every turn. As Sylvia Earle said herself, "we not only have power, we have superpower."
Finally, the third type of research, academic research, seemed to play a key role in the IF/THEN Initiative. It seems that Lyda herself has spent decades funding research - edgy, new, adventurous research. So, playing second fiddle to the scientists themselves are fantastic research scenarios that visually represent well on TV and social platforms. The research straddles all fields from research on pikas, sharks, and bears (oh my!) to astronomy, biomedical, computational and data science, and ground-breaking archeology. You can just visualize these women in their "science space" and most of them are not even close to wearing a white lab coat.
It is the combination of these three types of research that make IF/THEN stronger than the sum of its parts. In essence, we need Scully and Sylvia to reach the girl next door effectively! It feels like the concentration of these efforts together really has the ability to spread widely to girls across multiple media platforms.
Just standing in the room, I was privy to part of a conversation Karen Peterson had with Shirley Malcolm, Director of Education and Human Resources for AAAS. They remarked about how different this was when they were entering their careers and, hopefully, reflecting back on the many decades of fighting for change. They were beaming brightly as if to say, "we're here."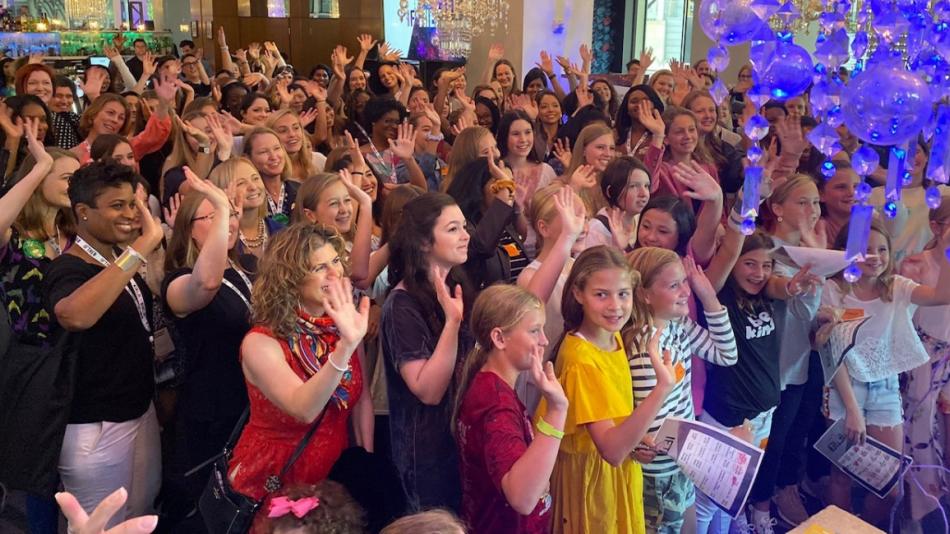 For graphics of some inspirational posts and a look at research, I've made a few downloads. A follow up blog called "Is Your Social Media Lit" with tips and tricks learned from the conference will be available on www.jenstancil.com with reference downloads as well.
Programs and Initiatives
The IF/THEN Initiative highlights professional female role models and is designed to open young girls' eyes to STEM careers.
More Information
Connected Girls is a free, curated directory of STEAM opportunities and events that are designed for K-12 girls or other groups that have been historically excluded.
More Information
FabFems connects young women with female STEM professionals during critical transition points in the career pathway through social media and our newsletter.
More Information