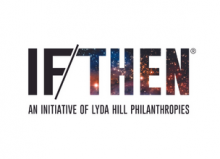 The IF/THEN® Initiative from Lyda Hill Philanthropies (LHP) is rooted in a firm belief that there is no better time to highlight positive and successful female professional role models. IF/THEN is designed to activate a culture shift among young girls to open their eyes to STEM careers. The IF/THEN® Collection is a free digital library with photos, videos, posters, activities, and other assets featuring diverse women STEM innovators — all available for educational and other non-commercial use.
NGCP's Role in the IF/THEN Initiative:
Collaborate with LHP to develop the IF/THEN Collection, holding focus groups to help guide the Collection's assets, technology, and website.
Manage asset requests, support the Association of Science and Technology Center's grantee needs, and oversee the addition of assets to the Collection.
Boost the use of Collection assets throughout the U.S. by leveraging our network of individual girl-serving programs and STEM-equity organizations.
Award $100,000 in grants to NGCP's Collaboratives in 2021 to promote the use of Collection assets in their statewide networks.
Website
IF/THEN Collection
The Collection showcases more than 150 inspiring women STEM professionals with videos, photos, and activities that are free for educational and other noncommercial use.
Video
Video Tour: IF/THEN Collection
This quick overview of the Collection highlights the variety of assets available and shows you how to search for exactly what you need.
Website
Women in STEM
The IF/THEN Collection was featured in the June 2021 issue of Media Planet's Women in STEM publication, along with an editorial by NGCP CEO Karen Peterson on the importance of role models and representation when it comes to encouraging girls to pursue STEM.