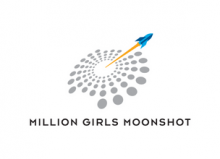 NGCP is a partner of the Million Girls Moonshot (MGM), a movement striving to inspire and prepare the next generation of innovators by engaging one million more girls in STEM learning through afterschool and summer programs. The Million Girls Moonshot is funded by the STEM Next Opportunity Fund.
NGCP developed the Moonshot's Access to STEM Framework, a research-based model for informing and guiding equitable and inclusive program design. Using the framework as a foundation, NGCP has provided professional development for afterschool networks and programs, facilitated a Community of Practice, and developed a portal of assets within the IF/THEN® Collection specifically for the MGM audience. 
Document
Access to STEM Framework
NGCP developed this framework for MGM, which includes strategies and tactics for increasing equity and inclusion in afterschool STEM.
Website
Assets for Afterschool and Summer Programs
This portal includes a subsection of the IF/THEN® Collection assets that are especially relevant for afterschool and summer practitioners.