Space holds the power to inspire our curiosity, our sense of adventure, and our quest for answers about the unknown. These are among the many reasons why space has a special potential to inspire science, technology, engineering, and mathematics (STEM) learning in children and adults.  
Space ignites our imaginations, and also provides a powerful lens to explore STEM concepts and ideas. Space education, research, and workforce development in the public and private sectors are also core components of the U.S. national interest, with the potential to drive exploration and scientific discovery, find new solutions for pressing challenges, and provide lucrative jobs for Americans. Last month I had the pleasure of attending the National Space Council's first Space STEM Forum held at the White House's Eisenhower Executive Office Building in Washington D.C. This exciting event brought together stakeholders from the public, private, and philanthropic sectors.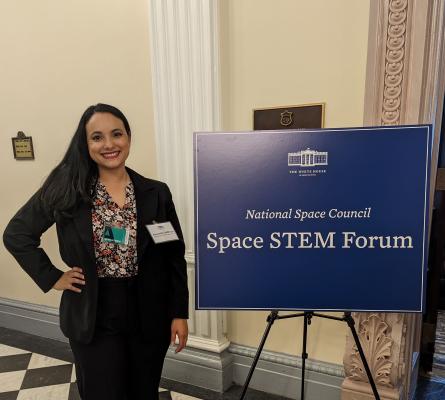 As an attendee representing the National Girls Collaborative Project (NGCP), I learned about the Biden-Harris Administration's space STEM priorities and how organizations across the country are developing solutions to the space-related STEM education and workforce challenges of today. As a representative of NGCP, I was particularly invested in the conversations around supporting equity in space STEM education and careers, including addressing systemic education and training opportunity inequities and ensuring that the space workforce reflects the diversity of the country we live in.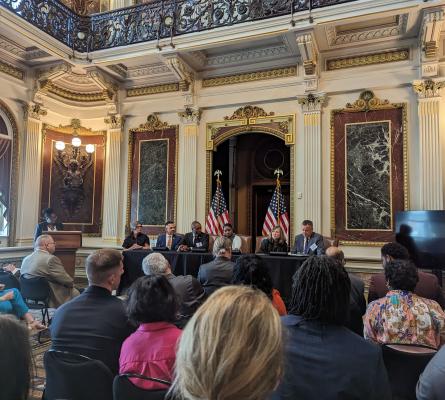 If you, like me, are inspired to kickstart your students' curiosity and excitement about space, check out the resources compiled below. These were put together based on conversations and resources shared at the Space STEM Forum along with the ongoing work of NGCP supporting gender equity in STEM. 
Educational Resources: These resources will help spark students' curiosity and interest in space related STEM learning!  
Your Place in Space, a website with free space-related resources for K-12 educators.  

Artemis I STEM Learning Pathway educator resources hub released by NASA provides resources to explore the technology, STEM concepts and careers behind the Artemis I mission.  

Girls STEAM Ahead with NASA (GSAWN) - NGCP partners with NASA's Universe of Learning on GSAWN, a nationwide project to engage girls and their families in authentic STEM experiences and current NASA science. The project provides implementation stipends to informal education organizations to plan and implement events in their communities using the Girls STEAM Ahead with NASA free resources. Together, girls and their families explore the wonders of the universe, learn about space science, and celebrate groundbreaking contributions women have made to NASA astronomy. Learn more here.  
FabFems is an international database of women in STEM managed by the NGCP. The women in this database are all passionate about serving as role models and helping spark career interest and awareness. When searching in the FabFems database specifically for space related role models, filter your search by career and select "Astronomy and Space Science" to find role models with space related careers! 
Career Pathway Awareness and Scholarship Resources: These resources will help showcase diverse pathways and funding options to go into space related careers.  
Your Place in Space Career Resource Guide - In this guide you will find a collection of one-page profiles that showcase a range of space careers beyond being an astronaut or rocket scientist – from aerospace engineers to space weather scientists! Each page provides a snapshot of a space professional's job, career journey, and personal interests.  Each can be used to spark students' interest in space and broaden their concept of a space career.   

Air Force ROTC program - The United States Space Force (USSF) through, the Air Force ROTC program, is increasing the value of scholarships for high school students to cover their full college tuition and fees.  

The IF/THEN® Collection from Lyda Hill Philanthropies and managed by NGCP is a free digital library with photos, videos, posters, activities, and other assets featuring diverse women STEM innovators, all available for educational and other non-commercial use. This collection is a useful resource for showcasing diverse pathways into space STEM careers (and STEM careers more broadly) including women in jobs related to aviation, astronomy, aerospace related careers, and more. Learn more here: The IF/THEN® Initiative.
These are just a few useful resources to kickstart an exploration of space and space related careers! If you would like to learn more about the Biden-Harris administration's commitment to space STEM education, check out these useful documents: