Published
Contributed by Deborah Lee Rose
As a spacesuit safety expert for NASA's Space Shuttle program, Sharon McDougle helped many astronauts suit up for space, and taught them how to stay safe on their Space Shuttle missions. She's most famous for her work with astronaut Mae Jemison, the first woman of color to fly into space. Their NASA photo together is the cover illustration of the new, national award-winning STEM children's book Scientists Get Dressed. 
For National Mentoring Month (January), what would you tell women in STEM professions about mentoring girls?
SM: I would tell them to make time to mentor at least one girl. You have to give back, and make sure our children know how special and smart they are, so you can be the woman mentor you needed as a girl.
As a role model and mentor yourself, what do you tell girls today who want to study and work in space or other STEM-related fields?
SM: I tell girls not to give up on their dreams. Sometimes it can get really hard, but don't be discouraged. I also tell them there are so many other aerospace careers besides becoming an astronaut. You can be successful and work in some of these careers without having a college degree.
About your NASA work with Mae Jemison and other astronauts — why do astronauts need help getting into their spacesuits both on Earth and in space?
SM: Astronauts need help on Earth to make suiting up easier for them, and there's less damage to the spacesuits and equipment when technicians are there to assist. The help is also for the astronauts to learn the proper way to "don" or put on and "doff" or take off their various spacesuits and equipment in space — where they have to do it without a suit technician to help. In space, astronauts help each other with their suits. It's a little more difficult because there's no gravity in space, and the suits are mostly floating around while the astronauts are trying to put them on.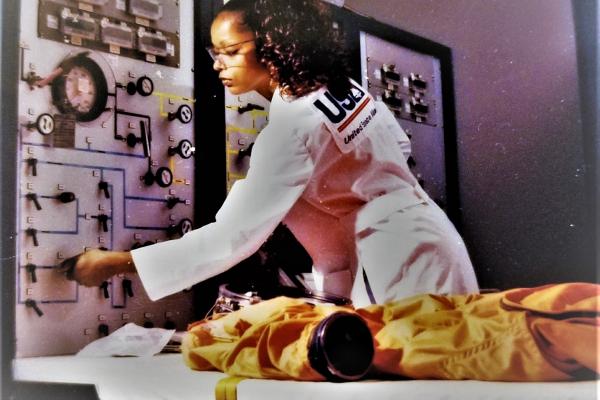 What are some of the most important steps in getting astronauts safely suited up before their spaceflight?
SM: We must make sure that astronauts have the correct size equipment, that oxygen is flowing to their helmet, and that their spacesuit pressurizes properly. During a launch or landing emergency, if the air pressure inside the whole spacecraft drops too low, the spacesuit's internal air pressure level must be just right to keep the astronaut alive.
What was the most challenging part of your work?
SM: The most challenging part was maintaining the absolute best condition of the spacesuits after they were used for pre-mission training.
What was the most fun part of your work with astronauts?
SM: The most fun was being part of a team with these amazing people — everyday people who were specially skilled — and going to all the Space Shuttle launches. The most exciting moments were when the rocket engines began to rumble before liftoff, and when the solid rocket boosters detached from the rocket high above Earth and we knew the Space Shuttle was safely launched.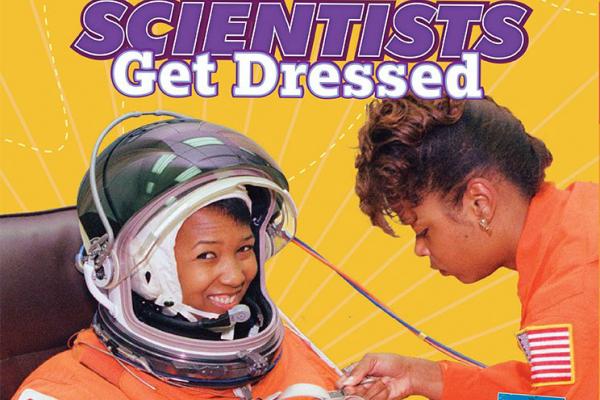 What do you suggest for girls and boys who are interested in space-related STEM and careers, so they can have fun with STEM, get inspired, and use their own strengths in discovering new things?
SM: I love to cook. So I think cooking and baking are great for kids of all ages, and actually teach measurement, precision, proportions, understanding of temperature and chemical reactions, and the importance of having the right tools for the job — like heat resistant oven mitts for cooking, or astronauts' gloves in space! These types of knowledge come into play in space-related STEM work, often in interconnected ways.
Why are spaceflight and space/STEM careers important, and why should kids even imagine themselves working in such a career?
SM: Life and existence are bigger than just being here on our Earth. Space exploration is our future. We need people who are brave enough to explore, to see what else is out there. And all the people who work behind the scenes of space exploration are very important too. Space exploration is not just about astronauts. There are all kinds of space-related jobs that kids can imagine themselves doing, and end up actually doing when they're grown up. As space exploration technology continues to develop, new STEM jobs are being created all the time. So a child today might someday work in a job that doesn't exist yet!
Author note about a personal mentor: I'm not a scientist, but one of my most special mentors was pioneering brain scientist and STEM education champion Professor Marian Diamond, who led UC Berkeley's Lawrence Hall of Science. She famously said, "The brain is the most complex mass of protoplasm on this Earth. It only weighs 3 pounds, but it has the capacity to conceive of a universe a billion light-years across. Isn't that phenomenal?" Marian Diamond helped me rediscover my childhood wonderment of science and turn that wonder into children's books. Her crisp white lab coat inspired me to create Scientists Get Dressed to help kids discover how both women and men scientists — in the lab, in the field and in space — work to make amazing discoveries, save lives and save the planet.