Published
Contributed by Hansa G.
Hi, I'm Hansa and I have had a passion for STEM ever since I was introduced to it at 2 years old. I enjoy complexity and patterns both of which appear in generous volumes in math and science. My passion to learn about the newest technologies coming into importance is what sparked my interest in Artificial Intelligence (AI). I started reading about AI and quickly realized all the books I was reading were written for adults. I felt inclined to make this knowledge available to young readers specifically K-12 school kids. This motivated me to write my first book, "AI for Kids", which I published in the Summer 2019. It's available on Amazon, and sold over 150+ copies! You can get your copy here!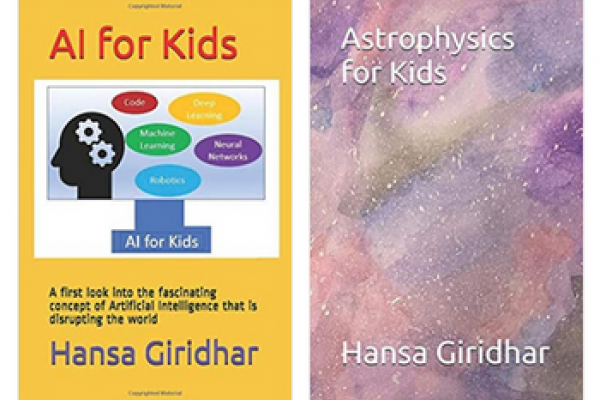 I aspire to be an astrophysicist when I grow up. So, I decided to spend my summer 2020 learning more about Astrophysics. I have read over 20+ books, varying in levels of depth and complexity, to build my knowledge on the subject. Again, I wanted to share my passion and newly learned knowledge on this fascinating concept with young readers, hence, I wrote my second book, "Astrophysics for Kids" and self-published it in Summer 2020. You can check it out here.
I learned a few valuable lessons along my journey to becoming a STEM author.
It is important to share the knowledge we acquire.

It is a blessing to have great mentors to guide us by sharing their experience.

Finally, one is never too young or underqualified to become a STEM author or entrepreneur. You are only limited by your ability to learn!
Sign Up
If you are a young girl interested in becoming a STEM author or entrepreneur, you can join Hansa's Leadstreams initiative to grow your communication skills and become a future STEM leader.
Programs and Initiatives
This group of high school students from diverse regions, backgrounds, and STEM interests helps guide NGCP's initiatives and direction.
More Information