Published
Contributed by Megan G.
"If you do something once, people will call it an accident. If you do it twice, they call it a coincidence.
But do it a third time and you've just proven a natural law."
 -Grace Hopper
March is National Women's History Month, a month dedicated to the contributions women have made and are continuing to make in society. As a woman pursuing my interests in computer science, I would do a disservice to the STEM community if I did not mention Grace Hopper, the woman responsible for creating the world's first compiler.
Grace Hopper was born on December 9th, 1906 and grew up in New York City. She attended Vassar College to earn her BA in mathematics and physics. After she earned her undergraduate degrees, she taught at Vassar College while earning her Ph.D. in mathematics at Yale University. During the year of 1943, she temporarily left her job as a professor to serve in the navy, supporting her country during World War II. After completing her naval training, the U.S. assigned her to the Bureau of Ordinance Computation Project at Harvard University. It was there, in the Crufts Laboratory, where she first gained exposure to computer science.
She helped create the Mark 1, 2, and 3 calculators, and was the third person to program the Mark 1 calculator, one of the first computers of its kind. She distributed the Mark 1 calculator to many businesses across the nation. However, Hopper noticed that many people did not further invest their time in computer science because they found it hard to understand Executable Machine Code. This lead to Hopper's creation of the compiler; which today translates high-level programming languages (such as Java or Python) to a language in which computers could understand.
At first, many people were skeptical of her idea, believing that computers could never understand English. However, Hopper developed the first known compiler, known as the B-O compiler, which could understand 20 English statements. This was a marvelous discovery, as computers have only been able to understand lower-level programming languages, which was very difficult to understand (imagine coding using only 1's and 0's). Later on, she developed the COBOL compiler, a more advanced compiler that could understand even more statements in English. Compilers are used to this day by most computer scientists, making computer science more accessible and easier to learn.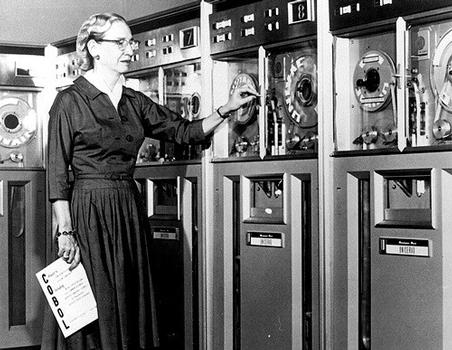 Grace Hopper remains one of the most admirable computer scientists to this date. She is rightfully known as "the mother of computer science", and many other computer scientists look up to Hopper for inspiration. Hopper's extraordinary accomplishments and contributions to computer science did not go unrecognized. She was the first to receive the Computer Science Man-of-the-Year award and was the first Distinguished Member of the British Computer Society. Hopper's invention of the compiler resulted in many more people entering the field of computer science, catching the interests of those that may have been intimidated by primitive programming languages before the existence of the compiler.
Hopper always had the desire to use her knowledge and experience to assist others. Hopper states that her greatest contribution to society was "all the young people I trained" and she enveloped a deep love for her country. During the year of 1967, she returned to serve in the navy until her retirement in 1986, where she earned the title of Rear Admiral. Even after her retirement, she continued her work in computer science until she passed away in her sleep on January 1st, 1992.
As a woman in the 20th century, her achievements and aspirations are extraordinary to this day. It was hard for many women to pursue further education as most women worked in factories or served as stay-at-home mothers. Hopper remains a well-respected woman in her field and a powerful role-model to other girls, especially to girls interested in STEM. By remembering her perseverance and devotion to computer science during National Women's History Month, we can inspire other young girls to enter and contribute to STEM fields. Female participation in STEM fields is crucial to gaining more diversity, solving issues from a different perspective, and creating a more inclusive work environment.
Programs and Initiatives
This group of high school students from diverse regions, backgrounds, and STEM interests helps guide NGCP's initiatives and direction.
More Information