Commission on the Status of Women
Every year, thousands of women (and men) from around the world gather in New York for the Commission on the Status of Women (CSW). They represent various sectors, including government delegations, civil society, academia, inter-governmental organizations, the private sector, and youth. This year's theme is Innovation and Technological Change and Education in the Digital Age for achieving gender equality and the empowerment of all women and girls.
From March 6-17, 2023, there will be formal meetings and side events – including virtual meetings – that will address the many facets of this issue. It is an opportunity for the Global Girls Collaborative to learn about some of the most pressing issues and ideas on how to leverage technology and innovation for gender equality.
UN Women issued a media advisory that highlights a number of events, some of which are accessible online and focus on youth. For a complete list of events, visit the CSW67 Side Event Schedule.
What to expect?
As an input to the CSW, a Report of the Secretary-General (in all official languages of the UN) outlined a set of priority considerations (and accompanying set of recommendations):
Misconceptions of the gendered dimensions of technology and innovation

.

Intersectional approach to gender gaps in digital access and competence

, including increasing women and girls' access to and use of digital technology, leveraging digital technologies to enhance women and girls' skills and learning, and addressing the underrepresentation of women and girls in science and technology.

Shaping inclusive and transformative innovation ecosystems

, including fostering multidimensional gender-responsive digital policy, setting targets and pulling financial levers, anticipating and orienting policies in the changing world of work.

Embedding gender perspectives across innovation and technology design

, development and deployment, including building gender-balanced cross-functional teams, adopting a human rights-based approach by design, improving transparency and accountability.

Preventing and eliminating technology-facilitated gender-based violence

, including teaching digital citizenship for responsible access and use of technology, adopting an ecosystem approach for greater policy coherence and law enforcement coordination, increasing engagement and accountability of State and non-State actors.

 
For colleagues in Africa, also consult the regional preparatory meeting report.
While the zero draft of the Member States negotiated Agreed Conclusions is also currently available, check back at the completion of the session to view Member State interventions (which often include their priorities and practices), the Final Agreed Conclusions and recommendations, and summaries of events.
Additional snapshots that help further frame Gender and STEM topics:
In alignment with the UNESCO Report on Gender and Artificial Intelligence and the CSW report, Futuristas offers the following broad framework for focus and action: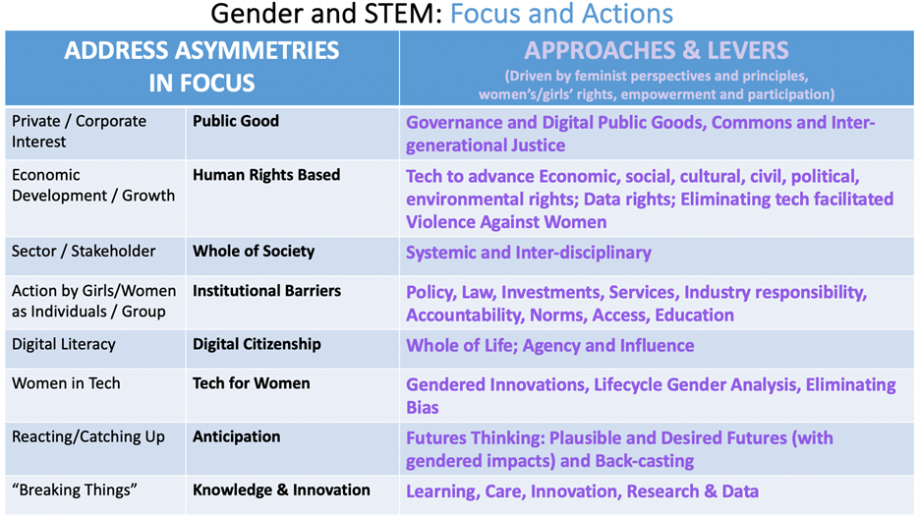 On the topic of education, revisit the UNESCO report on Women and Girls and STEM Education and it's outline of entry points to improve girls' and women's participation in STEM.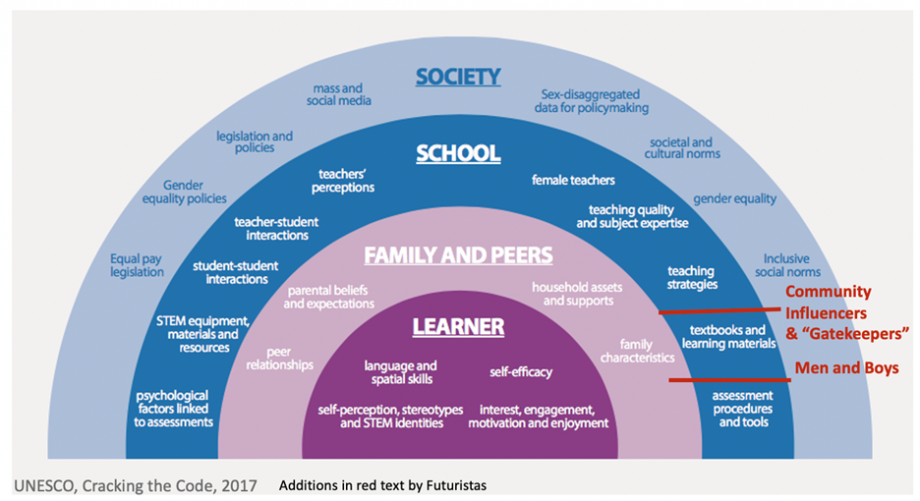 Other global coalitions and initiatives that focus or touch on gender and STEM: