Published
Contributed by Nalia M.
From a young age, I've been intrigued by the climate sector. In the fifth grade I remember doing an exhibition project where the theme was energy, and my topic was geothermal. That was when I realized why we needed an alternative energy source and the true detrimental effects of fossil fuel consumption. From there I kept researching within sustainability and last year began to start coming up with my own ideas.
My first area of exploration was solar energy's intersection with nanotechnology. Solar energy has huge potential and if we can get past some barriers, reliance on non-renewables like oil can slowly be shifted toward greener alternatives. However, solar faces a roadblock with regards to where panels can be placed, usually being confined to roofs. This limits their potential for widespread implementation. That's where my solution for a solar cell that was both transparent and flexible arose, as this would allow a panel to virtually be placed on any surface. Applications such as bendable electronics, smart clothing, and solar windows could easily be unlocked — and that would be a game changer. Nanomaterials allow thinner, cheaper, and more transportable layers to be synthesized. I worked on my idea over the year, getting it affirmed by experts and being mentored by professionals in the field. I am going to start building out this idea in the MaRS lab in November. My experimentation right now lies with materials including graphene quantum dots, perovskites, and silver nanowires. Through this work my goal is to bring an accessible and cost-effective design to the world.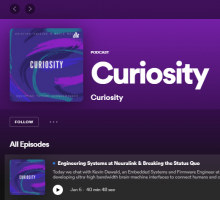 The world of bioplastics has been my latest area of exploration. Plastic pollution is something everybody knows about but nothing I'd ever thought of looking into at a greater depth, until an interesting article on LinkedIn really spoke to me. That's when the objective of building a polymer that could replace single-use plastics all together surfaced. There are several problems with bioplastics today, one major one being that they come from our food sources like corn and sugarcane, which cuts into human consumption and agriculture use. Duckweed is my proposed biomass source, the fastest growing and smallest aquatic species in the world. This is a second generation feedstock (meaning we don't eat it) that can be grown in water so it won't compete for agriculture, and can spread much quicker than corn and sugar cane. Hydroponics would enable duckweed to be scaled easily. There are several methods like nutrient starvation that can accumulate starch in duckweed, which makes it all the more promising for a bioplastic. When initially starting out in the field in May, I reached out to the CEOs of the coolest bioplastic companies, Pond Biomaterials being one of them, and ended up being offered an internship. This duckweed project has been funded and supervised by Pond, where the CEO, CTO, and lead chemist have been mentoring me.
Going back to the beginning when I started working on these projects, I met Kristina Arezina through a STEM program we had both joined. She was a few years older than me and literally the coolest person I had ever encountered. She had spent her summer interning as a full stack developer and was all about coding. We became good friends and at the beginning of the following summer started The Curiosity Podcast together. The whole point behind it is to equip the younger generations with the skills they need to thrive and find their passions, and this encompasses girls and boys alike.
The Curiosity Podcast has now brought on several experts at the top of their fields, our latest guest being Shaloo Garg, the United Nations Women Leader and startups recruiter at Microsoft. She talked to us about what it was like to be the only woman in the room and how she had to persevere through social norms that were pinned against her. Kristina and I hope to not only talk about STEM, but also mental health, frameworks for tackling problems like inequality, and the world's biggest issues today. We want the podcast to reach youth and help them to follow their curiosity.
Website
Curiosity Podcast