Matchbox Cars are for boys… or so the saying used to go. That's not really the case anymore, is it? The same goes for expecting dolls or playing house to be just for girls; we can't think that way today. After all, we live in a world that is finally beginning to throw out the stereotypes and pre-determined gender roles for children. Walk down any toy aisle in a store and you'll see how far these changes have gone. With Legos now designed for both genders, dress up clothes for all, and super hero dolls made for both boys and girls, it's hard to deny change. Of course, while the wave of change is upon us, there is so much more to be done.
One of the beautiful parts of the No Limits Project that the After School Programs of the YWCA of Jamestown, New York, participated in was encouraging female students to ignore the old rules of what toys they could and could not play with. Girls in fourth through eighth grade were given a matchbox car at the start of a six-week period. With the handing out of each car, it was also the start of an empowerment movement. Those involved were encouraged not only to forget gender roles, but to boost self-love and be inspired. How was that accomplished with a tiny little toy car, you ask? Simple. That car they were given wasn't just any car, after all. It was a model of Ewy Rosqvist's 1962 Mercedes-Benz 220SE Sedan.
Ewy Rosqvist is famous in the real-life racecar world for being the first female Grand Prix Winner. She and her co-pilot not only finished first in a dangerous race through South America, but beat everyone else involved by a landslide. She's noted for saying, "They said I could never finish. So I finished first." They, of course, are the men (and women) insistent upon the fact that no woman would survive the race, let alone win. To not only compete and take home the grand prize broke barriers like no one had before. Today, women are allowed to race cars because of her initial fight for the right. Many other women are simply inspired by her courage for standing up to the naysayers and proving that women can do as well as men can — sometimes even better.
When the students of our After School Programs were given these cars, they were taught about Ewy also. They were shown a video of her, and told her story. They were asked questions and had their minds opened to the idea that just because society says they can't do something doesn't mean that it is impossible. And that was only the beginning! Throughout the course of the six weeks, some of the students researched other female leaders that overcame negative stereotypes and impacted the world. To hear their excitement about their finalized power points was incredible! They were clearly impacted by the women they learned about, and were eager to share. Other students at one of the elementary schools made their own cars. These had words of self-love written upon them to help the girls understand their value.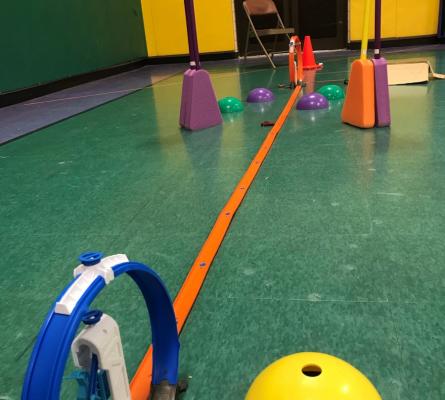 The girls at all four of our locations got their hands dirty with some racetrack making as well. The After School Program at each site has plastic racecar tracks for a different project involving Hot Wheels and math problems. A valuable project on its own, those cars and the racetracks are typically coveted by the boys of the program, with only a spattering of girls getting involved. That changed when the girls were given their new matchbox cars and told to create their own racetrack. They could race each other, or just build a track that the cars could actually get through. The leaders instructing them also provided Jenga Blocks, Kinex pieces, and more to help them create obstacles. One program leader said in regards to the hurdles the students created, "Obstacles are being made because Ewy had to overcome obstacles, both physical and emotional." Students nodding in agreement because they understood what their leader was saying was astounding — the girls were truly getting that this wasn't just about some toy car, but about equal rights. The laughter that filled the rooms, as cars careened down the orange plastic or crashed into wooden blocks, was infectious. The girls' joy made the teaching experience all the more special.
If I ask my students, particularly the girls, what they want to be when they grow up, the answers may surprise you. Or perhaps they wouldn't, with these changing times. Our job now is to ensure that change continues. All girls — and boys — deserve to understand they can do whatever it is they want to with their lives, whether that means driving a race car, being a stay at home dad, or building a house on Mars. Neither their gender, their race, nor their age should define what they are allowed to achieve. All they have to remember is that there is no limit to what they can do.
Dominique Del Calzo
Dominique Del Calzo is the Director of Jefferson Advantage After School Program. She works with middle school students currently, but strives to empower students of all ages. She is incredibly passionate about young people learning and understanding their incredible value in the world as future leaders and inspiration.