Girls Have No Limits was truly a statewide effort in Montana. We formed a five-way partnership (Montana State University, University of Montana, Helena College, ExplorationWorks, and the Montana Afterschool Alliance), and all of us have "tendrils" into many areas of the state, so all in all, we reached communities all across Montana with this fascinating, hands-on project.
Here are just a few of the highlights:
At Montana State University, our focus was on sharing the cars, videos, and program with pre-service teachers (education majors) so they could then share the cars with kids. First, Dr. Becky Hammack's K-8 Science Methods class tested out the cars and pilot tested activities they will do when they complete their student teaching. The MSU students built ramps, tested variables, and made data tables, just like they would ask their students to do. Next, Dr. Christine Lux shared the program with her Early Childhood Curriculum class and then brought the cars to MSU's Child Development Center. There, 20 pre-school girls and boys built ramps and engaged in dramatic play after reading "The Racecar Alphabet" during story time.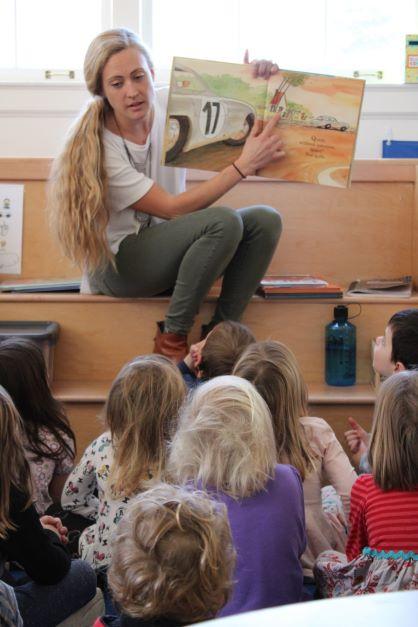 In western Montana, spectrUM Discovery Area hosted STEM programming at EmPower Place, a collaborative community space they share with the Missoula Food Bank. They handed out cars, watched the videos with children and made ramps for the Matchbox cars. spectrUM also hosted an activity in their MakerSpace and engineered tracks on their museum floor, where more than 200 kids tested drag, weight and impact speed. Additionally, spectrUM partnered with Daly Elementary School in Hamilton, Montana, where a student from the Gifted and Talented Program researched Ewy Rosqvist using the supplied links and video and presented information about her life and achievements to a dozen other students in the program. They also received Matchbox cars to take home. Lastly, the cars were used during a SciGirls afterschool program at Hamilton Middle School.
In the state capital of Helena, the SciGirls chapter of ExplorationWorks science museum met a real-life "Girls Have No Limits" role model in Maggie Fairclough, a young machinist who is an alumnus of Helena College. First the SciGirls toured the College's trades campus with Donna Breitbart and Tammy Burke, walking through huge workshops with planes, helicopters, diesel big rigs and machinery that students used to fabricate a whole range of parts. Maggie then shared her story with the girls, who were fascinated by Maggie's work building parts for Boeing airplanes. They were also very impressed by her fast rise from Starbucks barista to someone running barn-sized machinery using computer programming.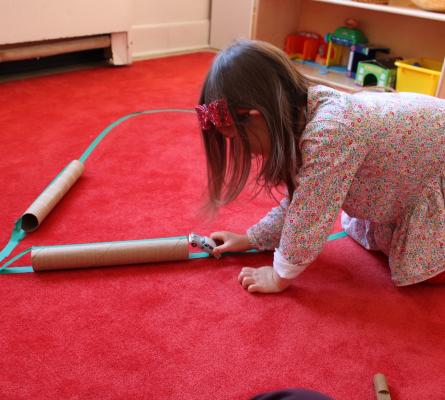 And in eight different communities across the state — many of them rural communities that are part of the Small Town STEM program — the Montana Afterschool Alliance worked with out-of-school-time educators to share cars and programming in Livingston, Pray, Big Timber, Worden, Billings, Pryor, Bridger, and White Sulphur Springs.
All in all, the Girls Have No Limits program was a huge success in Montana, reaching girls and boys in communities ranging from tiny towns of 600 people to our largest urban city. The legacy will continue on as future math, science, elementary, and pre-K teachers go out into the world armed with activities and experiences that help reduce the impacts of stereotypes and convey positive messages about gender.

Suzi Taylor
 Suzi Taylor is director of the Science Math Resource Center at Montana State University & co-leader of the Montana Girls STEM Collaborative. Suzi has a special interest in reaching youth in Montana's smallest and most rural communities, and some of her favorite projects have included working with 40 Montana classrooms as they virtually followed an MSU geology expedition to Mount Everest; helping to launch Science Action Clubs all over Montana; and leading a statewide geocaching project tied to the Montana Climate Assessment.