On three Saturdays, in locations across rural Southern Illinois, local Girl Scouts could be found racing beyond the limits as they participated in Science, Technology, Engineering, and Math (STEM) programs provided by the Girl Scouts of Southern Illinois. Thanks to the No Limits program initiative and partnership with the National Girls Collaborative Project, Mercedes Benz, and Mattel, girls were able to tie their love of creating and exploring new STEM concepts with the trailblazing story of Ewy Rosqvist's historic performance in the 1962 Argentinian Grand Prix.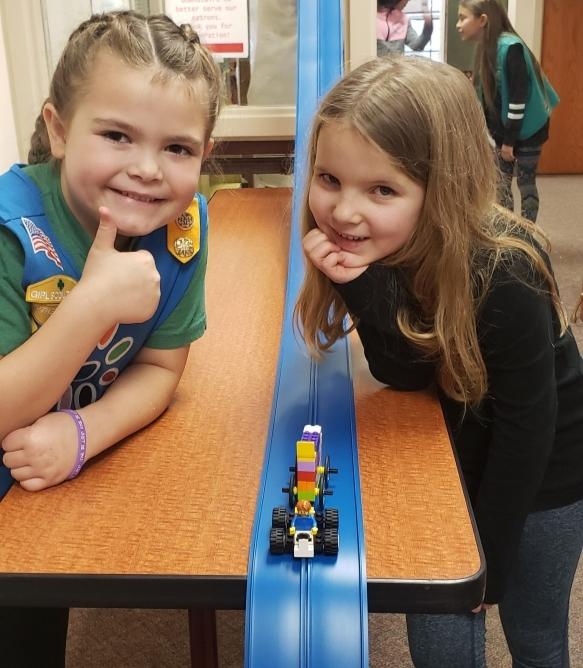 The Girl Scouts of Southern Illinois has made a commitment to bring opportunities to girls in their home communities through the creation of a Mobile STEM program. In January the Mobile STEM unit could be found at the Morrison-Talbott Library in Waterloo, IL. Forty-two girls in kindergarten through fifth grade participated in the Race to the Finish event. The girls began the day by looking at traditional boy and girl toys and talked about which they would most like to play with. They also noted how manufacturers design and market specific toys to each gender. After watching the video of Ewy Rosqvist the girls completed hands on activities that taught them concepts used in racing such as force, friction, and potential and kinetic energy. This was done by playing with balls on various surfaces and experimenting by trying to move their friends while sitting on the floor versus while sitting on scooters. Finally Lego race cars were created and raced on different tracks. The older girls were challenged to take this activity further and make their car balloon powered. Numerous iterations were completed by all the girls in hopes of winning the Girl Scout Grand Prix! Of course everyone was excited when they got to take home both their Lego car and the Matchbox replica of Ewy's car.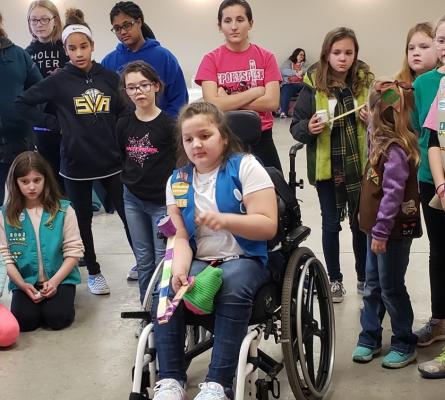 The next stop on the Mobile STEM circuit was the Crawford County Forest Preserve program center in Robinson, IL, on February 22 where twenty-seven girls enjoyed the Race to the Finish. Through their work in this event the girl's earned their Mechanical Engineering badges to proudly wear on their uniforms. Special emphasis was put on racetrack design to go along with their new cars. The girls observed how the speed their cars traveled at varied with the incline of the ramp.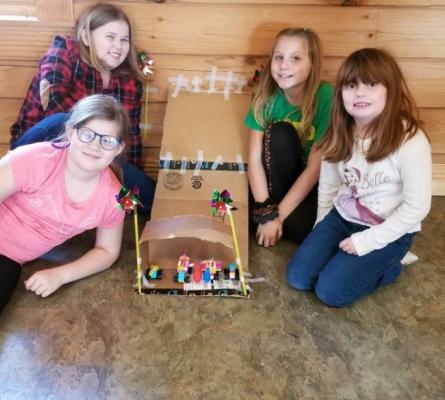 Also in February, we ran a Think Like an Engineer workshop with 40 girls at the Illinois State Fairgrounds in Du Quoin, IL. Although the focus of this program expanded beyond race cars to other engineering projects, we were still able to tie in the No Limits discussion by exploring various traditionally male engineering fields. This program included girls from kindergarten through middle school and inspired them to create air powered puff mobiles, fling flyers, and earthquake proof towers. A primary focus of Girl Scouts is to encourage older girls to gain leadership skills through leading program activities and helping younger girls. The middle school Girl Scouts arrived two hours early to learn the activities and techniques for working with the younger girls. They gained confidence through leading the activities and speaking in front of the group while the younger girls enjoyed the special attention they were getting and looked forward to the time when they too can lead a program.
Our final No Limits event before crossing the finish line was Transportation Manipulation held with 17 girls at Shawnee Community College in Ullin, IL. In addition to the kindergarten and first grade girls making race cars, second, and third grade made Fling Flyers, while fourth and fifth grade designed paddleboats.
Ewy Rosqvist's trailblazing story and the No Limits grant has helped the Girl Scouts of Southern Illinois support the next generation of G.I.R.L. These are the go-getters, innovators, risk-takers, and leaders of tomorrow. There is no limit on what these girls can achieve.
Mary Buchanan
Mary Buchanan is the Program Engagement Manager – STEM for the Girl Scouts of Southern Illinois, which covers the 40½ counties and over 9,000 girl members in Southern Illinois. She is also on the Board of Directors for Southern Illinois FIRST Robotics, which supports Southern Illinois FIRST Robotics teams through student and coach training programs, tournaments and grants.