How can a Matchbox car change the way girls and boys think? This is the question we strive to answer at our Get Moving STEAM Event.
This past February our school set out to challenge gender stereotypes. We wanted to show girls and boys that the activities they do or play do not define them. But how?
Once a week I facilitate a group of girls in our after-school club called TinkerBelles. This group is made up of Third to Fifth grade girls. The main goal of the group is to expose the young ladies to powerful women that have impacted the STEAM field. There are so many girls that have not heard about the accomplishments of Grace Hopper, Annie Easley, Edith Clarke, Michaela DePrince, Mary Agnes Chase, or Patricia Bath. What all of these women have in common is that they did not let what other people thought about them stop them from leaving their mark. Each week we focus on a different STEAM field and we do an activity that is related to that field as well as showcase a female that has or is impacting the field. It is amazing to see their eyes light up as they learn about women inventors that created products that we still use today. Sometimes they are shocked and say, "No way, I never knew a girl created that!" The more that we expose young girls to other women that did not let the world define them the more confident they will become.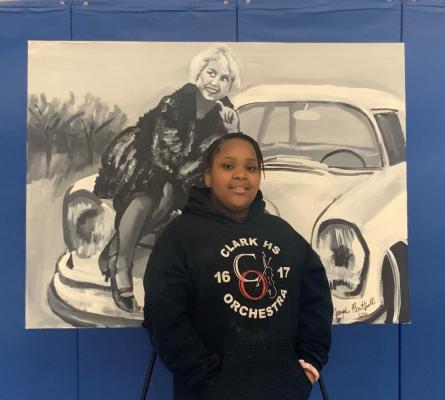 With support from The National Girls Collaborative Project we held an event for our community to confront gender stereotypes. We had the privilege to showcase Ms. Ewy Rosqvist and her incredible accomplishment as a rally car racer. She is a woman who showed the world it doesn't matter what you look like, it's what's on the inside that counts. Ms. Rosqvist's talent for driving safely and quickly was displayed as she completed the race hours before any other competitor, male or female.
Countless volunteers helped us transform our school into an interactive workspace. Hands-on activities were accessible to all people, regardless of race, background, gender, size, etc. Spheros were used to write codes for the Sphero to travel through a maze. RVR Sphero's were transformed into snow plows and programmed to shovel snow. Legos were used to challenge people to break all the rules and make something amazing! An interactive photo booth with an original painting of Ms. Ewy Rosqvist's Mercedes Benz was on display. Each participant was given their own Matchbox car, as well as challenged to express what no limits means to him or her. A few of the other stations that were at the event were Contraptions, Tegu blocks, Rig-A-Ma-Gig's ,a crowd favorite, Ozobot coding, and finally Specdrums to bring in the Arts and bring music to life.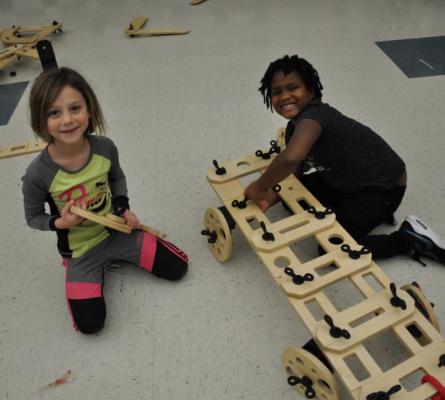 The stations were designed to facilitate innovative thinking and bring creativity to life. Families had the opportunity to work together and push the limits of what they could do. It was amazing to see parents learning from their child, and the joy that was exhibited by the families. It did not matter who you were, if you had an idea, it was explored. It was fascinating to hear, "I don't know if that will work, but let's try it!" They experienced first-hand what it feels like to have a unique idea, but it just did not work out……YET! The sense of accomplishment could be felt in the building. That feeling made people want to keep trying and not give up.
Our goal was to help people realize regardless of who you are, you can accomplish anything you set your mind to. We wanted to bring this quote to life, "They said I could never finish, so I finished first." No matter who you are, people will doubt you, but if you know who you are on the inside, you can silence the negative vibes people give off!
Through this experience, our students and community were able to challenge gender stereotypes as they interacted with each station. Each participant was able to see that the struggle was worth the reward.
Thanks to the National Girls Collaborative Project. With support from this organization, we were able to host this event and highlight an amazing woman. She challenged gender stereotypes not with her words, but with her actions.
This experience showed our community that no matter who you are, you just need to let your ability speak volumes to the world!
Kaya Jones
Kaya Jones, Gifted and Talented Educator. Facilitator of TinkerBelles and Girlstart. Creator and has a passion to get girls excited about STEAM. Daughter of two computer programmers, who did not appreciate Computer Science until recently.  Passionate about getting girls involved in the STEAM careers.