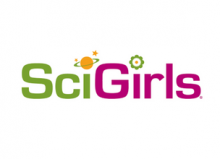 This Emmy award-winning PBS Kids television show, website, and outreach program draw on cutting-edge research about what engages girls in STEM learning and careers. A quarter of a century of studies have converged on a set of common strategies that work, and these have become SciGirls' foundation. The SciGirls Strategies summarize research-based strategies for engaging girls in STEM, including tips for putting these strategies to practice and references for additional information.
As SciGirls' key national collaboration partner, NGCP has helped to facilitate training using SciGirls gender equity resources across regional and local girl-serving STEM programs around the world. NGCP has also helped enable role model-focused outreach for SciGirls partners through the FabFems database of STEM professionals, as well as helped author SciGirls Strategies: How to Engage Girls in STEM.
Website
SciGirls Strategies: How to Engage Girls in STEM
This guide outlines the SciGirls educational approach, rooted in what research has revealed engages girls in STEM. These strategies have also been proven to work with all learners. Everyone benefits from a gender equitable approach to STEM.
Website
FabFems
Managed by NGCP, this international database connects young women with female STEM professionals during critical transition points in the career pathway.
Website
SciGirls website
The SciGirls' website includes videos, games, and hands-on activities that inspire, enable, and maximize STEM learning and participation for all girls, with an eye toward future STEM careers.