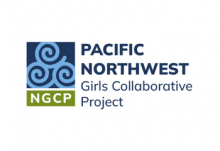 The vision of the Pacific Northwest Girls Collaborative Project (PNWGCP) is to serve as a conduit for girl-serving STEM organizations in Alaska, Hawaii, Idaho, and Washington that are committed to informing and encouraging girls to pursue careers in STEM.
Through collaboration, dissemination, and the leveraging of individual and collective resources, the PNWGCP creates synergies to increase equity and access to STEM and heightens the interest in STEM fields for all girls throughout the Pacific Northwest.
Too often programs that serve girls in STEM are limited in service and impact due to size, location, funding, expertise, and equipment.  In other cases, projects compete with each other, duplicating services and seeking the same resources.  PNWGCP provides the opportunity for programs to increase their ability to maintain interest and participation of girls in STEM through collaboration.
As the first collaborative site, the Pacific Northwest Girls Collaborative experienced tremendous success during the initial months of funding from the National Science Foundation. As a result, the National Girls Collaborative Project developed a national model that has been replicated in many more regions throughout the United States. Collaboration, as an interactive process, enables professionals across projects and communities to generate and carry out creative solutions and strategies that maximize benefit beyond what one project of community could accomplish.  The model is structured to bring organizations together to leverage resources, share information and exemplary practices, and to plan strategically to expand STEM-related opportunities for girls. 
Collaborative Lead
Karen Peterson - CEO, National Girls Collaborative Project
 
Email
Mailing Address
4616 25th Avenue NE #248
Seattle, WA 98105
Karen Peterson, Lead

, Chief Executive Officer

- National Girls Collaborative Project

Annette Anderson, Curriculum Development Director

- University of Washington, Bothell

Greg Bianchi, K-5 STEM Curriculum Developer

- Bellevue School District

Krista Galloway, Quality Systems Manager

- School's Out Washington

Didey Montoya

, Federal Programs - Kennewick School District

Cindy Thorngren, Director

- STEM Idaho

Gayna Williams, Founder

- If She Can I Can
Board members were selected to give the project a balance of desirable expertise and regional representation, including industry representatives, informal learning educators, gender equity experts, science and mathematics education representatives, and educational policy experts.
Julie Bletz, Scientific Project Manager - Institute for Systems Biology

Judy Cushing, Computer Science Faculty - The Evergreen State College

James Dorsey, Executive Director - Washington State Mathematics, Engineering, Science Achievement (MESA)

Julia Fallon, Information Technology - Office of Superintendent of Public Instruction

Letha Joye Jepson, IT Director - Enterprise Consumer Contact Centers Services Organization The Boeing Company

Elana Slagle, Director - Starfish Education

Brenda Wilson, Consultant - Sally Ride Science