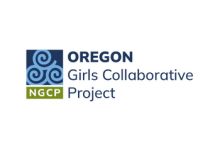 The Oregon Girls Collaborative Project brings together organizations throughout Oregon that are committed to informing and motivating girls to pursue careers in science, technology, engineering, and mathematics (STEM).
Our Goals
OGCP works to strengthen capacity, increase continuation of girl-serving STEM programs, and create more champions for gender-equality in STEM education and careers. 
Establish clear network of girl-serving programs across the state while documenting community & program needs.
Establish support system that includes expanding access to shared resources within and across programs, public and private sector organizations and institutions interested in expanding girls' participation in STEM.
Use the leverage of the network of girl-serving STEM programs to increase awareness and promote gender equity in STEM.
Strengthen capacity of existing and evolving projects by establishing and sharing exemplary practice research, program models, outcomes, and products.
Support program design that intentionally attracts, engages and retains girls and fosters their interest and skills in STEM.
Advocate to build more consistent STEM funding opportunities and standards for girl-serving collaborations.
Beth Unverzagt; Collaborative Lead, Director

- OregonASK

Julia Betts

, Classes & Camps Coordinator

- Saturday Academy

Julia Cannell

, Development Director

- Evergreen Aviation & Space Museum

Melissa Dubois

, Director

- South Metro-Salem STEM Hub

Krina Lee

, Executive Director

- Salem-Keizer Education Foundation

Jacqueline Murphy

, Executive Director

- Airway Science for Kids

Elizabeth Nye

, Executive Director

- Girls Inc. of the Pacific Northwest

Jo Oshiro

, STEM Education Specialist & Engineer

Tong Zhang

, Executive Director

- Oregon MESA

Heidi Sipe

, Superintendent

- Umatilla School District

Sherry Yang

,

Professor, Computer Systems Engineering Technology

-

Oregon Institute of Technology
Lynn Dierking, Associate Dean for Research, College of Education & Sea Grant Professor in Free-Choice STEM Learning, Science & Mathematics Education College of Science at Oregon State University

Julia Betts, Portland Community College STEM Center Director

Jennifer Miller, Computer Science Instructor, Clackamas Community College

Joyce Zook, Co-President, AAUW